Skip to Content
Reliable Commercial HVAC Service, Repair & Installation
---
Looking for a reliable HVAC company for a property you manage? Or maybe you have your own commercial property and you need to get scheduled maintenance handled. Whatever the need, Hubbs Heating & Air is equipped for the job. We offer scheduled maintenance agreements for our commercial HVAC clients in the central Ohio area and are also available 24/7 for emergency situations that crop up at any time, day or night.
New Home Owners – Save Thousands on Repairs
---
Don't close on a home purchase until you've seen the results of a complete HVAC system inspection. Without it, you may find yourself already facing one of the largest single expenses a homeowner ever makes, the replacement of a central air conditioner or furnace. Countless times Hubbs Heating & Air has received calls from home owners who have not even finished unpacking! The common theme is that a traditional home inspector did not find any issues with their equipment. Protect yourself with a complete HVAC system inspection performed by a qualified, experienced heating and cooling specialist.
What Condition Is the HVAC System In?
---
Be aware that the basic pre-sale home inspection isn't comprehensive enough to verify the condition of all HVAC system components. Most home inspectors have little or no expertise in heating and cooling technology, most often there are disclaimers in their contracts usually disclose that fact. They evaluate the overall condition of a system simply by whether or not it powers up and produces minimal cooling or heat. Equipment on the verge of failure may not be noticed. Basic home inspections don't include criteria to determine whether the system is still capable of meeting manufacturer's specs for energy efficiency, performance or safety, for that matter.
How Long Will the HVAC System Last?
---
The combined average life expectancy of a central air conditioner and furnace is about 15 years, assuming the system has received regular professional maintenance. However, even before that point, once any HVAC system is beyond a certain age, replacement of major components like the compressor or the heat exchanger, for example is no longer financially viable. If these parts fail, total system replacement will be the only recommended option.
A reputable, established heating and cooling contractor who sells and services this equipment every day is your best option for a thorough HVAC system inspection and informed appraisal of its condition. Before you buy, check out Hubbs Heating & Air's HVAC system inspection services, or call 614-999-3082 (Columbus Area), 740-870-9900 (Lancaster), 937-265-4339 (Dayton).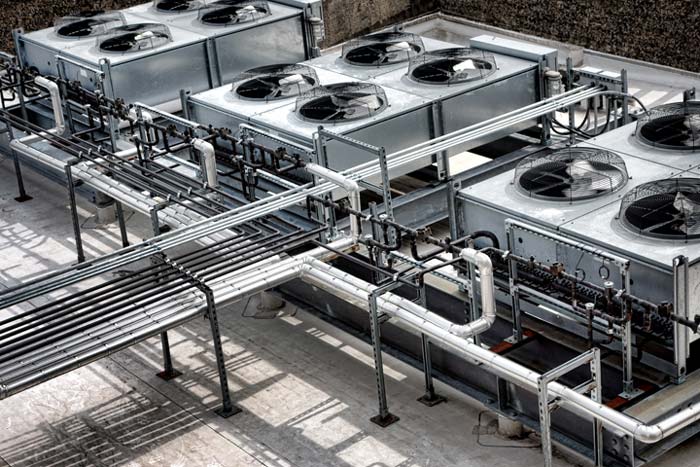 Ask about Our Commercial Maintenance Agreements
---
When your office heating and cooling system is malfunctioning, it can cause serious discomfort resulting in major productivity issues among your disgruntled employees. However, you can ensure your commercial HVAC system is functioning properly at all times with one simple phone call to Hubbs Heating & Air. Our commercial maintenance agreements cover just about all types of rooftop units, commercial refrigeration units, commercial boilers, commercial heat pumps, commercial cooling towers and compressors. Serving businesses of all sizes and property managers alike, we're proud to be your trusted source for all your commercial heating and cooling needs in Central Ohio!
Emergency Service All Day, Every Day, in Central Ohio
---
When we say that you can call us any time, any day, we mean it! Hubbs Heating & Air will take your call and provide you with the best service possible, regardless of the hour. We don't charge overtime fees or trip charges, and there's no additional fee for after-hours calls. Our goal is to provide your business with the highest level of service at the best value and make sure your needs are met. Give us a call today and experience the Hubbs Heating & Air difference – expertise, commitment to quality and personalized customer service that can't be beaten by some of our larger competitors.
Request a Free In-Home Estimate Today